Background
The HXY Scanner is an in-house developed project. When designing the HXY Scanner it has been my primary goal to take modern film digitization to a level where it allows for lossless digitization of the image content of any available photo film. Regarding resolution, sharpness, color fidelity and signal-to-noise-ratio the HXY scanner consistently exceeds the performance of any commercially available film scanner.
For high-volume throughput the HXY system's modularity and flexibility allows for a highly efficient film digitization workflow at a very high quality standard.
Technical Information
As a modern film scanner, the HXY Scanner utilizes a reprographic camera and highly optimized optics on a very rigid precision copy stand. At the heart, the HXY Scanner is powered by a Phase One IQ4 digital back with its 53.40 x 40.05 mm 151 MP BSI-CMOS sensor that captures tremendous dynamic range of unparalleled quality.
The film carriers can be precisely shifted on two axes for the image to be captured in multiple tiles that will be seamlessly stitched into a single large scan file. This technique allows for extremely large scans.
The outstanding spectral quality of the HXY's transmissive light source in combination with a highly accurate ICC profiling results in excellent color fidelity.
Specifications
Transmissive illumination: CRI 99 / CQS 99 LED light source
Phase One IQ4 digital back with 151MP BSI-CMOS Sensor on reprographic camera
Apochromatic high-resolution optics
HXY copy stand featuring XY capture stage
Max. Film Format: 12×20" (305 x 508 mm)
Single Capture resolution: 14204 x 10652 Pixel
Resolution: up to 53,088 ppi
Effective Optical Resolution: ca. 645 lp/mm or 0.775 μm
≥90% Sampling Efficiency
Bit Depth: 16 bit/channel from native linear 16 bit sensor read-out
Density Range: 0 – 4.8D
ICC Color Calibration with HutchColor Target
File Format: TIFF or PSB (for scans larger than 4 GB)
Fluid-mounting option for highest quality
Performance Evaluation
For HXY Ultra-High-Resolution Scans the HXY Scanner can resolve sub-micron details. Here you can see an optical performance evaluation test scan of the HXY Scanner. The finest lines on the scanned 7 x 10 mm field of the DanesPicta SR1 spezial 500 cy/mm test target are one micrometer wide.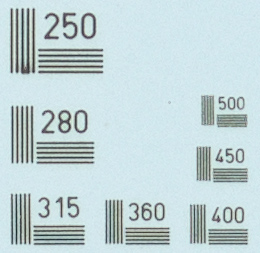 Technical Information
The ICG 370HS is one of the finest drum scanners ever built. It produces very high-quality scans that feature ultra-smooth tonal separation over a wide density range through a PMT based signal-generation pipeline and excellent sharpness and resolution across the whole image area. The robust scan files allow for enormous flexibility in post-production processing. The special look-and-feel of a drum scan has been highly regarded by photographers and made drum scanners the gold standard of film digitization for a long time.
Even today, when compared to the technically most advanced methods of modern film scanning, a high-end drum scanner produces a slightly cleaner tonal transitions of very high-contrast edges due to the focused point-light illumination which practically eliminates any optical flare.
Specifications
Illumination: focused tungsten point-light source
PMT-based signal generation
Maximum Film Format: 310 x 420 cm (A3+)
Resolution: up to 12.000 ppi
Effective Optical Resolution Limit: 112 – 125 lp/mm or 4.5 – 4.0 μm
Bit Depth: 16 bit/channel from native 12 bit log A/D conversion
True RGB color per pixel
Density Range: 0 – 5.6D
ICC Color Calibration with HutchColor Target
File Format: TIFF or PSB (for scans over 4 GB)
Fluid-mounting process